About us
ABOUT SEI
For over 40 years, Smith Enterprise, Inc. (SEI) has provided high caliber material support to the Armed Forces of the United States and to our allies.
We also strive to maintain a close working relationship with our individual customers for our custom services and products.
During the early years of the company, major products included cathode ray tubes and high frequency collectors for radar systems for companies such as Litton Industries, ITT, Varian Associates, Varo and Hewlett Packard. Ron Smith is a fourth generation master machinist and Ordnance repair expert. Sonja Sommers, the primary owner of SEI, owns the patent on the Vortex® Flash Eliminator provided to the Navy.
Today, SEI manages several major contracts that provide a range of products to many federal, military, and civilian agencies:
US Navy NAVSURF
USMC MARCORSYSCOM Quantico
10th Special Forces Group Fort Carson, CO
25th Infantry Division, Fort Shafter, HI
2nd Infantry Division, Seoul, Korea
US Navy USS Mahan (DDG72)
Dwyer Hill Training Center NAVSEA Special Forces Canada
CANSOFCOM
Department of Energy – Office of Transportation and Safeguards
We offer a wide range of products that includes:
Vortex Flash Eliminators
M-21 A5 Counter IED retrofits for M14 rifles
Sound suppressors and scope mounts for M14 and M16
Scope rings for M14 and M16
Repair parts for small arms
Red Arrow I and II bipod forward grips
TriRail forward bracket
TriRail system for M14
Accolades are not new to SEI – although most come in the form of letters or emails, one of the most memorable is a 5 inch shell presented by the Captain of the USS Mahan, in appreciation for building an order of Crazy Horse M-14/M21A5 rifles in only 3 days, with next day delivery, just in time for the ship's next deployment. It is performance like this that earns SEI rave reviews for the quality of our products and service to our customers.
It has been our family tradition to serve the Federal Government. Ron Smith's great grandfather began serving the Federal Government in the early 1900's. Decades ago, SEI produced major components for Model ANS PVS-5 night vision goggles. Today, we support the Federal Government and also sell commercially to Colt Canada, Brownells, Fulton Armory, Cabela's, and RemSport Manufacturing.
Through it all, SEI has provided high quality small arms repair and supplies to law enforcement and military. We are proud to tout that SEI produces quality products that meet the Buy American Act specifications. Other competitors cannot make this claim.
Commanders and logistics personnel have turned to SEI for refurbishment, night vision goggles, and critically vital elements to the military like our patented Vortex Flash Eliminator. Federal commanders rely upon SEI and seek us out for innovative weapons materials that make our soldiers safer and more effective.
No one in the industry can touch our track record with the Armed Forces for quality, pricing, innovation, and rapid turnaround. With our nation engaged in a global war on terror, Smith Enterprise, Inc. is now principally structured to meet these wartime demands and those of our Allies.
SEI'S FOCUS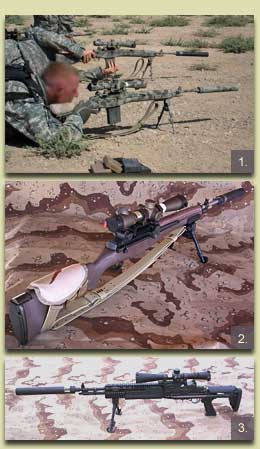 Shown above:
1. Latest versions of M14SE Crazy Horse SDM serving with 25 Infantry Division in Iraq.
2. Example of M14SE as recently delivered to 101st ABN (AASLT) Division in Iraq.
3. MK14 Mod SEI with M14DC Sound Suppressor, Mark 4 3.5-10X40 LR/T Scope, and Lightweight QD MIL STD 1913 Bipod.
SEI'S FOCUS
As one of our core products, the combat-proven M14 rifle has experienced a real military renaissance in recent years. As these venerable, hard hitting weapons continue to prove decisive on the battlefield, so does their value to soldiers and Commanders alike. With many thousands of these reliable Warriors still in the inventory, unit leaders throughout our Armed Forces have come to SEI to refurbish this fine rifle into the thoroughly modern and capable weapon that is the M14SE Crazy Horse® and MK14 SEI. These Commanders have also quickly realized that our M14 conversion program is a highly cost-effective means to rapidly field an exceptionally accurate, versatile and thoroughly reliable precision weapon at minimal investment.
Many SEI M14 products are the key components found on the new USN and USAF issue MK14 Mod O rifles. Likewise, our legendary two types of M14 NSN scope mounts have been sold in the thousands to all Services and have seen extensive combat use worldwide.
VORTEX FLASH ELIMINATORS –
THE ONE AND ONLY
When most people think of SEI, they also associate our name as the home of the original Vortex Flash Eliminator. Never equaled and often copied, this revolutionary and patented design is rapidly gaining a strong following throughout the US and Canadian Armed forces. The Vortex is now standard issue with the Canadian Forces C-8 and C-9 weapons and will soon be standard issue for the new US M2E2 0.50 caliber heavy machinegun. The Vortex is now a standard catalog offering of Colt Canada. The Vortex has also been adopted by the US Army Second Infantry Division, the US Department of the Interior and the Department of Energy, to name but a few clients. Throughout 2006 and beyond, this list of of official end users will certainly grow.
LEUPOLD TACTICAL OPTICS
SEI is also a very special distributor of Leupold tactical products for the US Government. Our special relationship with Leupold allows us to offer pricing and customer service to official end users that simply cannot be met, let alone beat by our competition.
SUPPRESSORS
Lastly, our line of Direct Connect (DC) sound suppressors are designed to meet the specific needs of the US Armed Forces and those of our Allies. Our re-buildable suppressors are virtually indestructible and are specifically designed for the rigors of modern ground combat. The Smith Enterprise, Incorporated-marked line of suppressors are available to the US Government, Law Enforcement entities and through Foreign Military sales (FMS) programs. SEI-marked suppressors are now available on the civilian Class III market. Please contact Smith Enterprise directly (480) 964-181 with your FFL and SOT and we can get the process started.
LOOKING AHEAD
The coming months will see a number of other exciting SEI innovations to support our Warriors, to include the rebirth of our famous M14K and an even more expanded line of Vortex flash suppressors. Visit our site often and remember that we welcome your comments and suggestions. We thank you for your continued support of our firm, and most importantly – to our Republic in her hour of need.
PROGRAMS AND SYSTEMS OVERVIEW


...a PDF file that describes the rationale and details
of SEI's M14-based weapons systems
GOVERNMENT, LAW ENFORCEMENT AND FOREIGN MILITARY SALES
SMALL BUSINESS CERTIFICATION
Our firm is an "8A", small and disadvantaged business that is woman owned, Native American and Veteran operated. We are DUNS, CCR and US Department of State certified. Our CAGE Code is 3A5E1.
GOVERNMENT PRICING
Since our official end-user pricing will often differ from the the retail pricing listed on this website, acquisition personnel should contact us through official channels for the most up to date price based on the quantities required.
PRODUCTION AND AVAILABILITY
Often times, certain items may be in short supply, which requires considerable effort to build up on-hand quantities. This is often exacerbated by fulfilling unforecasted unit Urgent Need Statement (UNS)-driven purchases. Put another way, we would strongly ask that unit Commanders, logisticians and force modernization/force integration personnel consult with SEI on their material needs at the earliest possible moment. We will give you an honest and candid assessment on both materiel availability, pricing and most importantly on helping you to define your requirements.
DEFINING USER REQUIREMENTS
Defining requirements may be a touchy issue with some personnel . We fully understand and accept that notion. However, it has been our experience that often times units and agencies aren't exactly sure how their precise tactical requirements translate into specifications. In other words, some organizations aren't exactly sure what to order. Defining requirements and understanding technologies isn't taught at the Advanced Course or at Command and General Staff College, or for that matter, the War College. This problem exists at all levels: from material/force developers at the service level, down to the grunt level. We know -- we've worn all those boots -- we're all old soldiers here.
M14 TRAINING
To address the lack of formalized instruction on maintaining and optimizing the M14 rifle for combat, Smith Enterprise, Inc. now offers unit training, either at our Tempe, Arizona location or at the unit. We have recently begun providing this intensive two day course for unit armorer's, Direct Support (DS) and General Support (GS) personnel. Originally developed and taught to the US Air Force, this instruction is now available to all Services, as well as to to Law Enforcement. All aspects of M14 maintenance and militarily-relevant modifications are covered by this comprehensive course. Each block of instruction is limited to 12 students. Instruction includes live fire. Contact SEI for details.
LOYALTY TO THE TAXPAYER
What we'll promise you is that we'll be attentive to your mission needs and equally attentive to the needs of the taxpayer -- that's you and me, in case anyone forgets. Yes, most companies won't want to highlight that last point. That is where Smith Enterprise, Inc is different: we care about the taxpayer and will be darn sure your organization pays a fair price and nothing more. Equally important, we won't try to sell your unit or agency on a product or service that your really don't need. If there is a key to our success, that is it.
CONTACT
Official End Users should contact SEI at the earliest possible moment they perceive a material requirement.
Military/U.S.G./F.M.S. customers, please include full Point of Contact information:
• Name
• Unit/Organization
• Phone
• Email address from your official domain, eg, .gov, af.mil, etc.
Contact: Ron Smith, Federal Support Coordinator
Tel. (480) 964-1818
Fax. (480) 921-9987
[email protected]
Smith Enterprise, Inc.
1701 West 10th Street, Suite 14
Tempe, AZ 85281
Tel. (480) 964-1818
Fax. (480) 921-9987
[email protected]